Electric Truck Stop
 THE ELECTRIC TRUCK STOP- TRUCK STOP LOCATOR, DIRECTORY, TRUCK SERVICE LOCATOR. FIND TRUCK SCALES, TRUCK ROAD SERVICE, TRUCK DRIVER JOBS,TRUCKING INDUSTRY INFORMATION,TRUCKING NEWS,TRUCKER FORUMS AND MORE!

 Electric Truck Stop.com provides you with a LARGE DATA BASE, directory, and LOCATORS, for truck stops , travel centers, travel plaza's, road service, repairs, tires, truck service , truck driver jobs,cat scales weather. For each truck stop we provide detailed information such as street address, plus Interstate Exits, Food service, truck service number of parking places, the availability of bulk Diesel Exhaust Fluid (DEF), and RV facilities. Updates for independent truck stops, as well as major chain truck stops and travel centers are included. Use the top menu (for quick finders - locators) or the left side menu for these locator services. Plan your trucking route with confidence, the Electric Truck Stop has your information, locators.
Truck Stops Locator,Trucking,Truck Driver
Featured articles on Electric Truck Stop about new and old truck stops, truck stop locator,trucking,truck drivers.
By

JOHN R. QUAIN
Published: December 28, 2012
PERHAPS you've recently been surprised to drive up behind an 18-wheeler on the Interstate whose trailer doors appeared to be ajar. No need to be alarmed: what you saw was probably one of several attempts at improving the fuel economy of long-haul trucks.
One such effort, the TrailerTail developed by ATDynamics, was designed to reduce the aerodynamic drag generated at the rear of trailers.
Devices to help cut the amount of energy needed to push large trucks through the air are already in wide use. Cowls and fairings designed to round off the front end, and filler panels that bridge the gaps between a truck's cabin and the trailer behind, are already common, as are side skirts that close off the lower portion of the trailer.
But no less important is the drag created by the turbulent wake behind a trailer's squared-off rear end, according to a report prepared by the Lawrence Livermore National Laboratory. As air rushes into the low-pressure immediately behind the trailer — an aerodynamic effect that can be felt as a distinct pull in a closely following car — the swirling flow generates considerable drag.
Reducing this drag can raise fuel economy. Indeed, more than half of the energy needed to keep a truck moving at highway speeds is expended just to overcome aerodynamic drag, the laboratory's report says.
Coming up with a solution to reduce drag at the rear of the trailer faces some challenges, however. Trailers often serve as shipping containers, not only on the road but also on trains and container ships. Simply changing the shape of a trailer could have implications throughout the cargo-hauling industry.
ATDynamics' TrailerTail sidesteps this problem with a bolt-on set of collapsible panels that extend about four feet behind the trailer, tapering inward to the rear. The panels can be folded flat or opened easily by a driver without obstructing access to the cargo doors, said Andrew Smith, chief executive of the company.
The tail alone can improve fuel economy by up to 6.6 percent at 65 m.p.h., Mr. Smith said. That number agrees with the upper end of the range of theoretical results projected in the national laboratory's report.
"There's no doubt that they work," said Steve Phillips, senior vice president for operations at Werner Enterprises, a transportation and shipping company based in Omaha. Mr. Phillips said his company was still in the testing stage, however, with about 134 of the company's 23,000 trailers outfitted with TrailerTails. He estimated that the tails, which cost about $2,200 each, would pay for themselves in fuel savings within a year.
There are roughly two million tractor-trailers on American highways, says ATDynamics. Based on Energy Department figures, a 6 percent reduction in diesel fuel use would amount to savings of 1.6 billion gallons a year, a reduction of about 14 million tons of carbon dioxide emissions — and save about $6.6 billion.
Welcome to the Electric Truck Stop



THE ELECTRIC TRUCK STOP offers the most comprehensive listing of Truck Stop Locations ,Travel Center, Diesel Fuel Outlets, Truck Washes, -
Truck road and weather conditions, Truck Cat scales, truck repair shops,road service, available anywhere ! Our locator(s) and directory service you will find useful as we have most all information you need for the trucking industry.
Our forums  Electric Truck Stop Forums   provide even more trucking information.
We have the latest in articles and news for the trucking industry.  We are adding to our trucking data base regularly, so what ever it is you need as a trucker we'll have it for you.
FEATURED TRUCK APPS
 Featured Truck Stops
Electric Truck Stop version of "TRUCK STOPS, DINERS and DIVES".....Small Truck Stops, "Mom and Pop " diners with truck parking, Deli's, Great food, a alternative to the large interstate truck stops. The Electric Truck Stop Staff has put together a list of such places as we travel around the country.
Yes we are truck drivers just like you, and constantly looking for places to park, rest, eat. These small truck stops are usually located along US Highways, out of the way State Highways. We will list these small places as we get them. You can help by joining our TRUCKER FORUMS, and submitting your favorite Truck Stop or Diner.
Submit your URL to a quality web directory listing for free We are listed in the Trucking Directory
About Us - Electric Truck Stop Locator, Directory
Truck Stop guide, Articles, instructions, links within the Electric Truck Stop - Truck Stop Locator system and website.
The Electric Truck Stop is rising in popularity as a site built for truckers by truckers, not some desk jockey using a website for recruitment of truck drivers, selling you truck products you dont want. The Electric Truck Stop will soon be the number 1 website to search for truck stops and truck stop services and amenities.
You will find a ever increasing data base of truck stops, truck repair shops, RV facilities, rest area's, small truck stops and diesel fuel outlets.
Locate truck stops with electrification sites to reduce the need for idling.
Truck Stops across the country are considering the benefits of adding or expanding electrified truck parking as more vehicles are equipped with electric standby (shore power) capabilities. The Electric Truck Stop provides you these truck stop locations with shore power.
This is a list of those truck stop locations: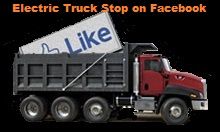 For Add and Sponsor info click here:
Total visitors
free website hit counter code