Electric Truck Stop
 THE ELECTRIC TRUCK STOP- TRUCK STOP LOCATOR, DIRECTORY, TRUCK SERVICE LOCATOR. FIND TRUCK SCALES, TRUCK ROAD SERVICE, TRUCK DRIVER JOBS,TRUCKING INDUSTRY INFORMATION,TRUCKING NEWS,TRUCKER FORUMS AND MORE!

Home
Trucking Data-Articles
Truck Stops Locator,Trucking,Truck Driver

Professional Truck Drivers
 Electric Truck Stop.com provides you with a LARGE DATA BASE, directory, and LOCATORS, for truck stops , travel centers, travel plaza's, road service, repairs, tires, truck service , truck driver jobs,cat scales weather. For each truck stop we provide detailed information such as street address, plus Interstate Exits, Food service, truck service number of parking places, the availability of bulk Diesel Exhaust Fluid (DEF), and RV facilities. Updates for independent truck stops, as well as major chain truck stops and travel centers are included. Use the top menu (for quick finders - locators) or the left side menu for these locator services. Plan your trucking route with confidence, the Electric Truck Stop has your information, locators.
There are 3.5 million truck drivers in the United States, with total industry employment at over 8.7 million. That means that one out of every 15 people working in the United States is employed in the trucking industry.
Professional truck drivers drove over 400 billion miles in 2005, a 146 percent increase in 25 years. In 2006, the trucking industry hauled 10.7 billion tons of freight, or 69 percent of total U.S. freight tonnage. In contrast, rail was the next busiest mode, moving 13.3 percent of the nation's freight tonnage.
A shortage of professional truck drivers exists in some segments of the trucking industry.  There is a current shortage of approximately 20,000 truck drivers per year.  This number is expected to increase to 111,000 drivers by the year 2014.  The shortage is not due to lack of interest, just basic economics – the demand for professional truck drivers is growing faster than the number of new drivers entering the field.
To help solve the growing shortage of truck drivers, the Electric Truck Stop Forums has developed a website, www.forums.electrictruckstop.com to help people interested in a career as a professional truck driver find out how to begin. The industry is looking for both men and women of all ages, including those looking for a second career, who want to experience the open road. We offer something for rookie drivers to seasoned Vets in or forums. Join us today!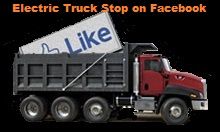 For Add and Sponsor info click here:
Total visitors
free website hit counter code