Electric Truck Stop
 THE ELECTRIC TRUCK STOP- TRUCK STOP LOCATOR, DIRECTORY, TRUCK SERVICE LOCATOR. FIND TRUCK SCALES, TRUCK ROAD SERVICE, TRUCK DRIVER JOBS,TRUCKING INDUSTRY INFORMATION,TRUCKING NEWS,TRUCKER FORUMS AND MORE!

Truck Stop Directory, Locator - Arizona
NATSN is the oldest Nationwide Network of Independently Owned Truck Stops. Our locations are full facility truck stops and are conveniently located on all major interstates.
Barney's #30
Yuma, AZ
I-8 & 3E Exit 3
Phone: 928-344-0160
Fax: 928-726-6625
Owner: Barnicle Enterprises, Inc.
Manager: Heidi Kessler
Driver Services
Permits
C-Store
Vehicle Services
Road Service
15 Parking Spaces
Financial Services
Transcard
TCH
T-Check
Fleet One
EFS
Comdata
ATM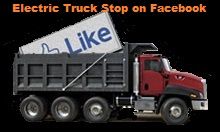 For Add and Sponsor info click here:
Total visitors
free website hit counter code