Electric Truck Stop
 THE ELECTRIC TRUCK STOP- TRUCK STOP LOCATOR, DIRECTORY, TRUCK SERVICE LOCATOR. FIND TRUCK SCALES, TRUCK ROAD SERVICE, TRUCK DRIVER JOBS,TRUCKING INDUSTRY INFORMATION,TRUCKING NEWS,TRUCKER FORUMS AND MORE!

Trucking - Trucks - Truck Stop - News
MorElectric
™
Shore Power Package
The Caterpillar
®
MorElectric Shore Power Package
provides electric power while at rest or at a destination
point. It eliminates the need for idling at truck stops, loading
docks, or fleet terminals. Along some interstate corridors,
state and federal government agencies are working to install
initial shore power plug-in parking spaces under a program
called Truck Stop Electrification (TSE). The Shore Power
Package includes all the hardware required to power the
truck hotel loads. It is designed to be compatible with the
National Truck Stop Electrification standards (240 V/30 A)
which provides a maximum of 4.68 kW for heating and
air-conditioning 12- or 24 V DC capacity comparable to
class 8 truck operating main engine at 900 rpm idle speed.
By eliminating engine idling, drivers will appreciate
the significantly improved cab resting environment.
Applications
•
On-Highway Trucks
•O
f
f-Highway Equipment
•
Fire & Rescue Vehicles
•M
ilitary Vehicles
•
Motorcoach, RV's, and Transit Buses
•
Locomotives, other HD applications
Features and Benefits
•
Reduces engine idling for fuel savings
•R
uns off utility grid for convenience
•
Provides heating and cooling for comfortable cab
•
Reduces engine wear, extends oil changes
•
Charges batteries and powers all truck circuits
•
Compatible with National TSE Standards (240 V, 30 A)
•
Allows driver to comply with idling regulations
•
Lower weight [20 kg (44 lb)] compared to battery or
thermal-mass based idle reduction solutions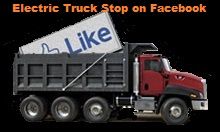 For Add and Sponsor info click here:
Total visitors
free website hit counter code