Electric Truck Stop
 THE ELECTRIC TRUCK STOP- TRUCK STOP LOCATOR, DIRECTORY, TRUCK SERVICE LOCATOR. FIND TRUCK SCALES, TRUCK ROAD SERVICE, TRUCK DRIVER JOBS,TRUCKING INDUSTRY INFORMATION,TRUCKING NEWS,TRUCKER FORUMS AND MORE!

Trucking - Trucks - Truck Stop - News
UPS goes electric trucks
On February 5, 2013 UPS unveiled their new fully electric trucks. The event was held at United Parcel's West Sacramento distribution facility, with California's Governor Jerry Brown as guest speaker.
UPS will have a total of 100 of these zero-emission trucks out-and-about. The trucks were built by Electric Vehicle International (EVI) at their Stockton California Manufacturing plant. The expected reduced fuel consumption is 126,000 gallons a year, which is a significant reduction that will also lower carbon emissions.
These trucks are part of Governor Brown's executive order to put some 1.5 million zero-emission vehicles onto the state's roadways by 2025.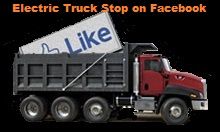 For Add and Sponsor info click here:
Total visitors
free website hit counter code