Electric Truck Stop
 THE ELECTRIC TRUCK STOP- TRUCK STOP LOCATOR, DIRECTORY, TRUCK SERVICE LOCATOR. FIND TRUCK SCALES, TRUCK ROAD SERVICE, TRUCK DRIVER JOBS,TRUCKING INDUSTRY INFORMATION,TRUCKING NEWS,TRUCKER FORUMS AND MORE!

Trucking - Trucks - Truck Stop - News
TCA sponsoring free health fairs at selected TA Petro truck stops across U.S.
The Trucker News Services
ALEXANDRIA, Va. — To help professional truck drivers lead longer, healthier lives, the Truckload Carriers Association (TCA) will sponsor free health fairs at 18 TravelCenters of America/Petro Stopping Centers (TA/Petro) across the United States. Reflecting the theme "Make Your Destination Another Birthday," these fun, informative events will take place on Tuesday, Sept. 17, or Wednesday, Sept. 18, depending on the specific location.
Set to coincide with National Truck Driver Appreciation Week (NTDAW), the fairs will take place at the following TA/Petro locations:
September 17
•           Petro – North Little Rock, Arkansas
•           TA – Ontario, California
•           TA – Cartersville, Georgia
•           TA – Clayton, Indiana
•           Petro – Clearwater, Minnesota
•           Petro – Kingdom City, Missouri
•           TA – Albuquerque, New Mexico
•           TA – Fultonville, New York
•           TA – Greensboro, North Carolina
•           TA – Lodi, Ohio
•           TA – Oklahoma City, Oklahoma
•           TA – Harrisburg, Pennsylvania
•           TA – West Greenwich, Rhode Island
•           TA – Antioch, Tennessee
•           TA – New Braunfels, Texas
•           TA – Salt Lake City, Utah
September 18
•           TA – Tampa, Florida
•           TA – Corfu, New York
Each of these locations will provide opportunities for participants to undergo glucose and blood-pressure testing. Other activities are still being finalized, but each health fair will offer a mix of wellness-related activities, such as training on cab-friendly exercises, health and wellness trivia, basketball and/or hula hoop contests, and yoga and exercise classes. Some locations will also feature "Celebrity Walks," in which participants can take 1- or 2-mile walks with well-known personalities affiliated with the trucking industry.
This is the second year that TCA has worked on these fairs with other trucking-based groups to get drivers exercising, eating better, and taking charge of their bodies to combat the ill effects that a sedentary lifestyle can bring. This time, TCA is joined by the state trucking associations of Florida, Georgia, Indiana, Minnesota, Missouri, New Mexico, New York, North Carolina, Ohio, Pennsylvania, Rhode Island, Tennessee, Texas, and Utah.
"As a former state trucking association executive, I'm pleased to see that the number of state organizations supporting this endeavor has doubled from last year," said Chris Burruss, TCA's president. "The health fairs will be successful only if people know about them – and it's the local groups that have the ability to get the word out the fastest and most effectively."
Along with TCA, Comdata, McLeod Software, Progressive, TA/Petro, U.S. Bank, and XRS are the official sponsors of the health fairs. Their support makes it possible to provide the fairs for free. They are also paying for special baseball caps and pins that will be given away to contest winners and Celebrity Walk participants. In addition, TA/Petro plans to give away fruit, water, and other healthy items at its 18 participating locations.
"We are thrilled again to participate in TCA's efforts to bring health awareness to our nation's drivers," said Thomas O'Brien, president and CEO of TravelCenters of America. "Last year's events were well received. This year, with more of our locations involved, we look forward to bringing a message of health to our customers and to have some fun doing it."
In the weeks to come, details about the health fairs – including GPS coordinates to each location, specific activities, and the names of the celebrities – will be posted to www.truckload.org/Health, the Facebook page for the events. Be sure to "like" the page to receive the most current updates as they become available.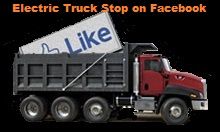 For Add and Sponsor info click here:
Total visitors
free website hit counter code